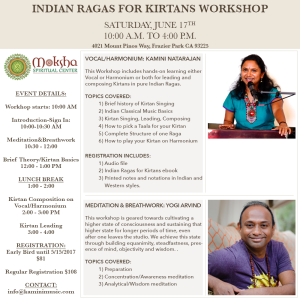 on May 1, 2017 in
Kamini Music would like to Thank each and everyone of you for attending our Launch Party !! It was so much fun to see all of you and share Raga based Kirtans. Thanks to all our amazing Musicians as well !!
I received lot of emails asking me to do workshops to go along with the eBook, Indian Ragas for Kirtans. I thought it is a great idea as you can get hands on practical training.
One of these requests came from a Yogi friend of mine, Arvind Chittumala- founder of Moksha Festival, Producer of Yoga Maya documentary and Owner of beautiful Moksha Spiritual Center.
We are doing a joint, Kirtan plus Meditation and Breathwork workshop on Saturday June 19th from 10:00 AM – 4:00 PM. 
REGISTER HERE: https://kirtan-workshop.eventbrite.com
This is a 5 hour Hands on Intensive Workshop. Learn more here:
Do you want to lead Kirtans but are shy to lead? Are you a Kirtan singer looking to learn authentic traditional Indian Kirtans? Does singing Kirtan in a foreign language make you intimidated? Do you want to learn correct way to chant Mantras, sing Kirtans and learn how to play it on Harmonium? REGISTER FOR Indian Ragas for Kirtans Workshop …
Come Celebrate Kamini's NEW eBook Indian Ragas for Kirtans launch at the beautiful KATHMANDU BOUTIQUE There will be a fun practical workshop to learn a brand new Kirtan from this eBook !! ADDRESS: 1844, Lincoln Blvd, Santa Monica, 90404 DATE: FRIDAY, May 19th TIME: 7:00 PM TICKETS: Donations welcome, $10 – $20 donations appreciated WHY SHOULD YOU COME? BECAUSE IT …
iamlight 3 #hiphop #jazz #kirtan #music gathering sat 5/6/17 / Super happy about the line up / Kirtan: @kaminimusic Jazz: @musicalbak3r (Neverful) HipHop: #zaireblack Fusion: @tulsidevimusic / DJs: @dasheye @jamunapriti @djdrez @eusebio_akasa / Going down at a new location: @yogalutionmovement w many special guests like @cyberyoga @srikalamusic @mentalphysix @oliveyogalb / #love n #light
---