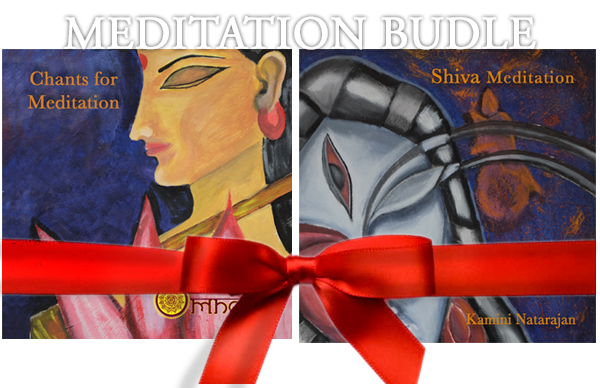 GET BOTH for $12
Would you rather have a Physical Music CD?
BUY CD
Meditation Bundle
Shiva Meditation and Chants for Meditation

I am giving away a FREE album, Shiva Meditation with purchase of my recent album Chants for Meditation. Both these music albums contain songs that will help with connect deeply with yourself, relax, de-stress and uplift you. You can play these songs while practicing Yoga or for meditation. You can also listen to these while driving or traveling to calm your nerves or at work to focus and concentrate.

Shiva Meditation has selected Chants of Shiva.
This Album has four powerful, ancient tracks.
1) Rudrashtakam
2) Shivopasana Mantra
3) Shiva Ashtakam
4) Shiva Shatanaamavali

The melody is soothing, relaxing and meditative. Shiva Meditation runs for little over an hour. You can listen to it while meditating, doing yoga, for stress relief and calming your mind.

Chants for Meditation is a Deep Meditative journey created by Composer/Producer Ken Elkinson and Singer Kamini Natarajan. Chants for Meditation is a music album containing 14 different chants and mantras to heal, relax, meditate, rejuvenate and guide you into deeper conscious state.
Kamini Natarajan, singer of Chants for Meditation has extensive experience in Sanskrit and also teaches Sanskrit to Yogis and Yoginis. With her authentic knowledge of this language, you can be sure that you are listening to the best pronounced Chants and Mantras. This Album contains 14 tracks.
Would you rather have a Physical Music CD?
BUY CD
This deal does not apply to Physical CD and there is an additional shipping cost which will be calculated before you submit your order.
What People say about my music
"I am always mesmerized by Kamini's music. She is a custodian of a long lineage of Indian Classical Music, more specifically devotional music. It's a blessing that she is keeping the traditions alive and passing on the gift of music to us in these modern times. She has very masterfully created so many songs/chants for us to connect with the divine. Her artistic abilities transcend the devotional music genre; she is truly a world musician. I high recommend her music to relax and go deeper into our conversations with spirit."
– Arvind Chittumalla
Founder Moksha Festival

"I love Kamini's beautifully melodic, soothing and unique voice. Her sonic compositions and vocal approach takes the listener on a wonder journey. Her music resonates in my soul and moves me. That is the point of music, right? To invoke emotion and passion. Kamini delivers."
– Michael Cutting
Musician, Producer

"I met Kamini through a mutual friend as I was looking to do an album yoga and meditation music. We hit it off instantly. I was blown away by her lineage and depth of study. She took the songs I had composed and transformed them into something amazing. Her timing and vocal ability are both top notch for the Kirtan music genre. I look forward to working with her again in the future."
– Ken Elkinson
Musician, Producer

"Kamini's voice is one of a kind and CELESTIAL.. her style of engaging the audience – allows non-singers like us who meditate – experience the majic and bliss of soul stirring kirtans – our hearts and souls get uplifted each time we attend her session.. We are so delighted to have these opportunities to attend her kirtans – thanks a ton from the bottom of our hearts.."
-Rakesh Radhakrishnan
Kirtan Lover

"You can tell when people have a passion for what they do - Kamini sincerely has a passion for sharing her voice with the world. I brought her music with me on my travels to India and introduced my friends to it - they LOVED her rhythmic, soothing voice in traditional chants - she has such a fantastic range. Kamini is a superb musician, singer, and of course, friend! <3" – April Barron Tucker
Program Director/Owner at Eka Loka Yoga and Wellness, LLC

"Kamini is an amazing musician with such a soulful voice. I am always transported to a place of peace and joy when I attend her Kirtan events."
-Missy Arellano
Intuitive Health Coach
Would you rather have a Physical Music CD?
BUY CD
This deal does not apply to Physical CD and there is an additional shipping cost which will be calculated before you submit your order.